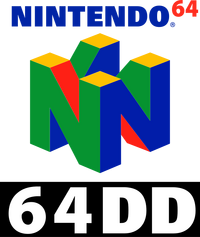 The 64DD ("Disk Drive" or "Dynamic Drive" or "The Big Boobed Nintendo") was an add-on for the Nintendo 64 that allowed it to run games from proprietary 64 MB magneto-optical disks. As its development took much longer than expected, it was only released in Japan when the system was in its final stretch; it was a commercial failure, so its western release was cancelled. Most planned games were also cancelled, or moved to cartridge format.
If you plan on emulating these games, stick with actual disc dumps. If you want to play them on actual N64 hardware without owning the Drive, most games have hacks] that allow them to run on flash carts like the 64drive or Everdrive-64.
The N64DD List
Edit
| Picture | Title | Genre | Description |
| --- | --- | --- | --- |
| | Doshin the Giant | Sandbox | Strange God-sim with mildly disturbing, cartoony art style. Was ported with expansion to Gamecube after the death of the 64DD |
| | F-Zero X Expansion Kit | Racing / Creative | The only released DD game that works with previous N64 games (see Ura Zelda). Create new tracks, cups, and cars; play on 12 brand new tracks; soundtrack has been upgraded to stereo. |
| | Mario Artist: Paint Studio | Creative | Was among the few game-creation software proposed for the DD, allowed you to free draw, edit screenshots, and even create skins for polygons. |
| | Mario Artist: Polygon Studio | Creative | Allowed you to mess around with 3D models. |
| | Mario Artist: Talent Studio | Creative | Allowed you to use attach paint studio creations or uploaded images to figures from polygon studio. Was used as an animation/motion capture software, think Autodesk Maya circa 2001. |
| | Simcity 64 | City Creation Simulator | A fairly impressive (almost) addition to the sim city franchise, seemed similar to Simcity 2000. |
Community content is available under
CC-BY-SA
unless otherwise noted.