This page is still under construction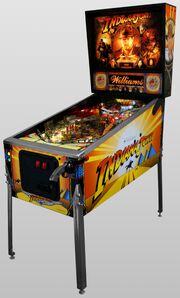 Pinball machines are now a thing from the past, something that most people today only remember because of that Pinball game that came with Windows XP. Back in the day, however, they were practically everywhere, usually sharing the same space in game centres together with Arcade machines and billiards tables. These days, if you want to play a Pinball game you have to either go to those gigantic and expensive game centres in Las Vegas or play through one of the many Pinball simulators made for a variety of consoles.
As far as Pinball games go, most of them tend to be crappy to average, failing to replicate the physics and/or featuring bland table designs. There were however quite a bit of amazing titles for this genre, so this list is here to help you pick the gems from the garbage.
If you want to learn more about pinball (and learn a trick or two), check this link.
Prolific companies
These are companies which specialized in creating Pinball games.
| Company | Games | Description |
| --- | --- | --- |
| 21st Century Entertainment | Pinball Dreams, Pinball Fantasies, Pinball Illusions, Pinball Mania, Slam Tilt | The first company to do Pinball games right, they were the kings of the Amiga, making some of the most fondly remembered Pinball games, many of which are still ported to other systems even today! |
| Naxat Soft | Alien Crush, Devil's Crush, Jaki Crush | One of the many supporters for the TurboGrafx-16, they have created the Crush Pinball series, which became cult classics. Much like most Pinball sims, they go for a more fantasy style with enemies on the table to be destroyed and bonus areas to discover. |
| KAZe | Super Pinball: Behind the Mask, Super Pinball 2: Amazing Odyssey, Last Gladiators, Necronomicon | The first company to attempt and actually succeed at a more faithful recreation, it's games go for a more realistic style but are as much awesome as any other good entries of the genre. |
Other games
| Box Art | Title | Description |
| --- | --- | --- |
| | | |
Community content is available under
CC-BY-SA
unless otherwise noted.