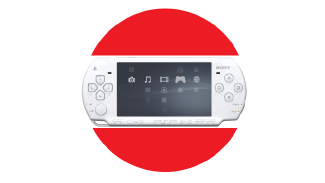 These are titles which have not been *officially* released in English on the PSP, although in some cases a fan translation may be available.
Box Art
Title
Genre
Description
Darius Burst
Shoot 'em up
Taito's mecha fish shooting series makes a return on the PSP, a perfect fit for it since the resolution emulates the widescreen arcade setup of old rather nicely. With 3 different game modes, 3 different Silver Hawks to choose from and a sizeable gallery of unlockables, there is still lots to do here in spite of only having half the number of stages compared to usual. There has since been a proper arcade release reusing the aforementioned setup, but good luck finding that unless you live in grorious nippon.
Final Fantasy Type-0
Action RPG
Fourteen different playable characters, playable summons, a world map, chocobo breeding and a fantastic story. The gameplay is difficult and will kill you if you get careless but is fun and faster than Crisis Core. (No slot machine!) Much grittier and bloodier than previous Final Fantasy games.

The game was not released in English, at least not until the HD remaster came out years later for PS4, Xbone, and PC. For those who want to play it on PSP, there is a full English translation.

Gachitora!: Abarenbou Kyoushi in High School
Being a Badass / Beat 'em up
Imagine GTO+Yakuza. After saving an idol from jumping off the local high school roof, through your very convincing "persuasion" skills, you get hired by the principal to work as a teacher. It's your job as a teacher to help all the students with their problems. You do this by "persuading" them while having a "battle of the minds", that plays out like a standard beat 'em up boss battle. Of course you just don't help students with their teenage troubles, you also get to beat up various delinquents and other scum.
Goku Makai-Mura Kai
Platformer
This is the re-release of Goku Makai-Mura (better known to us English speakers as Ultimate Ghosts 'n Goblins) that was altered to be more in line with previous entries in the series.
Mobile Suit Gundam: Battle Universe
Mech / Shooter
Final entry in the Japan-only Gundam Battle series. If you're a UC Gundam fan, you absolutely have to play this. Addictive gameplay, and has literally every mech from every UC series and movie. Gain skill points after completing missions to enhance your mech. Nothing fancy, but it's serviceable. Unlike other Gundam games, this one plays fast. Fuck walking around like a tool, you're going to be buzzing around like a god damned hornet. Mech models look great. Sadly, Universe is only in moonrunes, but one of its predecessors, Gundam Battle Royale (which is the same game with less content) is almost entirely in English. The first game, Battle Tactics, is also in English, but plays more like the shitty PS2 games. Has a sequel titled Gundam Assault Survive but is generally considered worse than this one.
Gundam vs Gundam Next Plus
Fighting
The latest game of the Gundam vs series, and one of the best ones yet. Has a few extras compared to the arcade version like new mechs, more arcade routes, a mission mode, and more Mobile Armor giant bosses. 4 player ad-hoc is possible. Game is Japan only, but not needed to understand the game. Has sequels on the PS3, Gundam Extreme Vs. and Gundam Extreme Vs. Full boost(Arcade only for now, PS3 port coming soon.) Since PS3 is region free, get Extreme Vs. Instead of this one if you don't have it already.
Gunhound EX
Mech/Run and Gun
Fantastic port of the 2009 PC exclusive and spiritual succesor to Assault Suits Leynos II. Play as a badass mech blowing shit up all over the place, the more shit you blow up; the better your score gets (which is important if you want to get them sweet upgrades). Very hard and punishing, plus the in-game dialog may become annoying very quickly, since the dialog boxes cover a good chunk of the screen and can hide projectiles/enemies coming at you. JP only, but very gaijin-friendly.

Also, play the "Simulator" first, so you get used to the controls and different mechanics

Higurashi Daybreak: Portable
Fighting
Port of the PC doujin game. Supports awesome 4 player ad-hoc action. Only available in Japan.
Initial D: Street Stage
Racing
Port of arcade DORFITO racing game, Initial D Arcade Stage 3. Good graphics, nice music, SPEEDY SPEED BOY!
K-On! Houkago Live
Music/Rhythm
You enjoy rhythm games like Guitar Hero? You think you can play them even without the guitar? You honestly believe that 5 buttons and a strum switch is more hardcore than a dpad and 4 buttons? FUCK you. You will get your ass HANDED to you by this moeblob rockband.

K-On is an Anime about cutesy schoolgirls founding a rockband. This is the official game. It has all of the popular songs from the show and a few very good choices from the extended CD's. This is a 5 man group: Lead Guitar, Rhythm Guitar, Bass, Keyboard and Drums. You can play EVERY SONG with either of those five, on TWO DIFFICULTY LEVELS and they play COMPLETELY DIFFERENT. Lead guitar is heavy on the righthand buttons but throws in a few d-pad commands from time. Rhythm guitar is more balanced but still heavy on the buttons and more inputs. Bass is extremely heavy on the d-pad, because Mio is a lefty. Keyboard uses all the colors of the rainbow and drums will steel your ass with rhythm training. If you search for a challenge and like the J-Pop this is for you. Even if you are rythmic and like rhythm games you will find your balls firmly pressed to the walls. Japanese only but it's not too hard to figure out and works with ppsspp perfectly. This game is great! Gameplay video here

Macross Ace Frontier
Flight / Combat / Arcade
BEST GRAPHICS. Awesome control. You can even control the original SDFM. Just memorize the moonrune menu, memorize the controls and choose the robots that do the super rockets rather than the melee attack. UPDATE: Macross Ultimate Frontier has been out for a while now. It's the same, but more. Another sequel, Macross Triangle Frontier is also available.
Monster Hunter Portable 3rd
Action-Adventure/Monstah Huntin
Includes new armor that sports a very samurai feel, some new weapons, and the ability to have up to 2 felynes/cats as companions. May never leave Japan so rev up that translation patch. There's also a wiki. Some say it's easier compared to MHFU, but it looks MUCH better. Lacks MH3U's underwater combat but also lacks 3U's "half elemental damage" bug.

Ported to PS3 in HD, yet your save data can transfer between both versions, if you, you know, can.

Nayuta no Kiseki
Action RPG
Completely unrelated to the rest of the saga. Falcom's new take in a "story-driven action RPG". Basically means MGS4 long cutscenes and the action of Ys with anime aesthetics. Only in Japan and contains huge walls of text but the action's still enjoyable. Plays similar to a platformer, with RPG elements and hack n slash gameplay. Amazing soundtrack as expected. Has a English translation (Place names not translated)
Parodius Portable
Shoot 'em up
Collects all 5 Parodius games, humorous parodies of Konami's own Gradius series.
A few song changes, but rofl who cares? Finally, a PLAYABLE version of Parodius MSX!
PC Engine Best Collection: Soldier Collection
Shoot 'em up
Compilation of Super Star Soldier, Final Soldier, Soldier Blade and Star Parodier. It even includes special tournament editions of Final Soldier and Soldier Blade that were made especially for national shmup competitions that Hudson held back in the day. Bonus tutorial videos were added where legendary Takahashi Meijin explains strategies for the games, exactly like he did in the 80s.
Pop'n Music Portable 1 and 2
Music/Rhythm
Part of Konami's "music simulation" series about hitting nine big colorful buttons hamburgers. The arcade ports for the PS2 stopped at 14, and the PSP games are actually based on 15 and 16, respectively. The lack of a special controller is made up by adapting the harder charts into the lesser button modes (there's still 9-button in here, though). The song wheel lists songs by genre, from the innocuous "pops" and "j-tekno" to descriptions such as "girlhood" and marine cruise".
Project Diva + Project Diva 2nd
Music/Rhythm
A very fun rhythm game featuring Vocaloid characters, namely Miku Hatsune. Japanese only, but still easy to figure out. There is a patch that translates the menus into English here : (2nd) out now. Also in arcades in Japan and hi-res when connected to PS3 + DLC.

A third sequel, Extend, is also out and considered the best. Project Diva F is available on PS3 over here in the states.

Salamander Portable
Shoot 'em up
More Konami shmup goodness. Contains the arcade Salamander, Life Force, the awesome but short Salamander 2, and updated Gradius 2 from MSX, and the first system port of XEXEX.
Taiko no Tatsujin Portable 1, 2 & DX
Music/Rhythm
A taiko-drumming music game. Clean 2D graphics and addictive gameplay make it a must for any fan of rhythm games. Portable 2 expands a lot on its predecessor with more than 50 songs (and free DLC!), and the last iteration, Portable DX, tops the list with more than 70 songs (and DLC!), a full story mode and etc. Not like you'd be playing for the story anyway. And last but not least, DX is the only Taiko game on the PSP to feature costumes! Monster Hunter and Hatsune Miku costumes are available along with songs from both games :3 The only problem is that DX ditched minigames, present in previous versions, entirely. Also, YOU WA SHOCK!
Twinbee Portable
Shoot 'em up
5 Twinbees on one UMD. Twinbee, Detana!! Twinbee, Twinbee Yahho!, Pop'n Twinbee from the Super Famicom, and even an updated port of Twinbee da! from Game Boy.
Community content is available under
CC-BY-SA
unless otherwise noted.